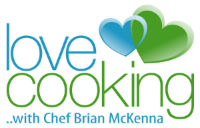 Love Cooking Class Theme Examples...
Love …Being A Chef – Knives, Knife Skills, Knife Maintenance
What is Mise en Place, how important is your set-up. Which knife for the task. The grip, the claw, the stone, the steel. From julienne & paysanne to smash the clove. The busy board, the cross contaminated board.
Let's make Soup and Risotto from our perfect mise en place.
Love…Being a Chef - Braising, Dry Heat Moist Heat Cookery
Turn cheap and tough cuts into tender and priceless. Seal it, Saute it, Deglaze it and Braise it. Heat low and sloooooow... covered and moist. Braising is economical, inexpensive, efficient - a single pot / an entire meal.
Let's cook Chicken Tagine and Olive Oil-Braised Vegetable.
Love…Being a Chef - Sauté & Flambé
Sautéing is not Pan-frying or Stir-frying. Choose the right pan. De glaze, reduction and the momentary burst of flames. Make the oil dance. The one handed shake slide push and flip. Tip and load pan away from you.
Let's make Ratatouille and Banana Flambé.
Love…Being a Chef – Sauces separate the cooks from the Chefs
Stock is on, boil / control simmer / skim / refresh. Bouquet garni, sachet, clouté, concassé. From roux to reduction. Velvety velouté, béchamel, buerre blanc. Three ingredient tomato sauce.
Let's make a Pasta with Velouté and Tomato Sauce.
Love...The Modern Cafe
How far will you go for an extraordinary cafe breakfast or lunch experience...it seems a dying art form to make real food. Many cafes prefer a pair of scissors over a knife and whisk to open the prepackaged dressings and sauces.
Let's make Caesar Salad, the original 1924 Caesar Cardini 12 ingredients Caesar salad.

Love… Salmon
Learn; salmon filleting, spooning, portioning, curing, smoking, sauté/caramelizing, presentation.
Let's make Sichuan Caramelized Salmon with Charred Mediterranean Vegetable.
Love …Cooking With Wine
"I enjoy cooking with wine. Sometimes I even put it in the food I'm cooking." ~Julia Child. The Chefs measure...one for the Chef, two for the sauce.
Let's cook: Fish Chardonnay en Papillote and Riesling Syllabub with Fraises au Vin Rouge.
Love …To Be In Love
Oh To Be in Love, A menu of foods that harmonize.
Let's cook, Tomato, Basil & Avocado Salad with Balsamic Vinaigrette and Crispy Bacon Sage Roasted Mushrooms with Camembert Cheese and Garlic Mayonnaise.
Love...Acapulco
Close your eyes...Today we are on a golden sandy beach with crystal clear waters. Listen closely you can hear the Mariachi in the background..."Ay,ay,ay,ay Canta y no llores, Porque cantando se alegran, cielito lindo, los corazones."
Let's make: Pico de Gallo and Guacamole with Tortilla.